This year's annual China Foreign Teachers Union annual survey gave us quite a few surprises - some good and some bad. First the good news... Identity theft victims in 2016 were down 6% from last year and 27 black ESL job agents were finally arrested and were given a choice to pay 100,000 yuan fine or spend six months in jail. The PSB vows to continue their hunt for agents telling foreigners it is "no problem to work without a Z visa". 13 agents were caught selling forged university degrees and were not given any such choice - they were sentenced to one year in prison.
Some more good news... On average the pay for foreign ESL & TEFL teachers has increased 9% over last year due to the supply shortage of expat teachers and now the average wage for a native English speaking teacher in China is 18,000 yuan per month. Those holding education degrees are earning an average of 22,000 yuan per month. For non-native English speaking teachers with no education degree, the average salary is now 15,250 yuan per month and those holding an education degree are earning an average of 16,500 yuan per month. If you are not earning this much, it is time for you to demand a raise!
Now the bad news... (although there may be a silver lining in this for some of you who decide to remain in China). According to our survey results, a whopping 73% of expat foreign teachers now working in China, say they are making this their last year in the Middle Kingdom and will work elsewhere after their contracts expire in June.
Here are the reasons they cited:
1) Air and water pollution are now at dangerous levels (42% of the 73%)
2) Salaries are much higher in Korea, Japan, and Singapore (39% of the 73%)
3) Cheated by employer, agents, or recruiters, (10% of the 73%)
4) Worried about the Hepatitis epidemic in China (7% of the 73%)
5) Family issues back home (2% of the 73%)
Although the Chinese government has pledged to clean up the pollution, and they have actually begun to do so by shutting down 7 of the 212 coal burning plants in China, the net improvement has not been that noticeable. Perhaps by 2025 we may no longer require air filter masks if they keep closing 7 coal plants a year. This documentary film about China's horrific pollution problems received over 30 million views in just 1 month.
https://www.youtube.com/watch?v=T6X2uwlQGQM#t=45
Of course, the pollution in China varies by region as this regional map explains quite well:
In 2016 the air pollution got so bad that the Ministry of Education closed the public schools for five days and warned parents to keep their children home because the API index exceeded the toxic level. No such warning were
issued to the foreign teachers
however. The photo below shows the difference between a summer and winter day in Beijing: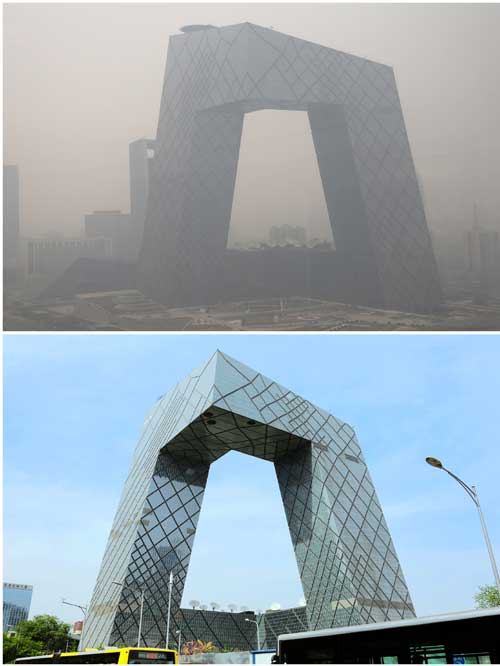 Some more bad news is that 27% of our foreign teachers in China that were surveyed say they now do not feel very welcome in China and some have even been insulted by students and parents when they were caught making spelling or grammar errors in the classroom. Even the Chinese government is growing more critical and less tolerant of unqualified or low-skilled expat teachers as reflected in this recent Global Times newspaper article:
http://www.globaltimes.cn/content/981575.shtml
But the worst news for 2016 is that a record number of foreign teachers were arrested, jailed, fined, and deported from China, mostly for two reasons; 1) Working without a real Z visa in their passport, and 2) Caught working with forged university degree. Of the 2,987 foreigners that were deported, 2,712 were deported for the above reasons. Other were ejected for acts of violence, "bad behavior" or discovered to have a contagious disease (ie. Hepatitis, HIV, TB, etc.)
Now about that silver lining...

Since

there will be almost 18,000 ESL & TEFL job vacancies next September, those of you who decide to stay in China can demand a huge pay increase of at least 5,000

rmb

per month and/or a housing allowance since the cost of housing has increased 7% over last year in the big cities on average. Over the past 5

years

this housing increase was 31% on average, while average wages for foreign teachers increased only by 10.5%.
Some things never change from year to year as foreigners working in China still give high marks for the variety of delicious foods, tourist sites, and for the

friends

they have made here. In 2016, 8% of those surveyed claimed to have found their soul-mate in China and have either married them or plan to soon.
Our complete 2016 Annual report is available to members by email and will be published in the March CFTU newsletter.
Additional Reading:
http://www.floridatoday.com/picture-gallery/news/2016/11/17/poor-air-quality-plagues-china-as-authorities-issue-a-warning/94023712/ and also
http://pollutionpictures.blogspot.sg/2011/01/woww-most-polluted-cities-are-in-china.html
2018 UPDATE: CFTU WHITE LIST NOW EXCEEDS 2000
HONEST & ETHICAL CHINA EXPAT EMPLOYERS
Here They Are!
http://www.slideshare.net/LaowaiCareerCenter/2018-cftu-white-list-of-china-tefl-teacher-employers
©
Copyright 2010- 2018 by CFTU - Reproduction with Source Credits Authorized